On time for once. Beat that, British trains.
What, you expected something witty? Do you even know me?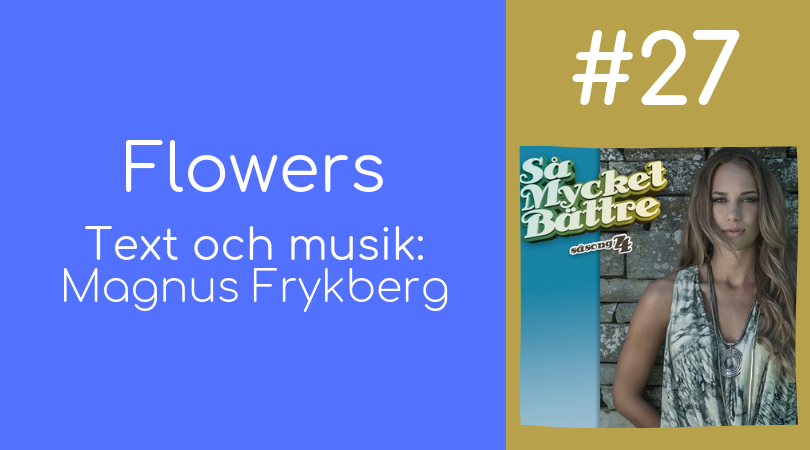 Flowers
Average
: 7.58
High scores
: 9.7 x 1 (
@berserkboi
), 9.5 x 1 (
@Txetxu
)
Low scores
: 5.25 x 1 (
@CasuallyCrazed
), 5.5 x 1 (
@Reboot
)
Chart positions
: #12 Digilistan
And Just Like That, Så Mycket Bättre is down to its last leg. How much longer can Instant Repeater 99 last? What crappy film was it used in? Find out...later.
So Flowers was originally performed by Titiyo, who has the same father as Neneh Cherry. She made her début in 1989 with the single 'Talking to the Man in the Moon'. It reached #6 on Sverigetopplistan. It was included on her album in 1990, which reached #3 in the charts.
Incoming geoblock?
Her highest charting single was 2001's Come Along, which reached #3, and the album with the same title managed to hit #1. Let's investigate the song:
Not Popjustice friendly enough for you? Well then, how about 2008's Longing for Lullabies by Kleerup, with Titiyo as a featured artist?
Still not boppy enough for you? Tough. Flowers was released in 1990, and was included on the earlier mentioned self titled album. It actually charted in the UK, reaching #71. It sounds a little different to Agnes' version (well, if it didn't there would be no point in Smb, would there?). Yes, I am playing for time.
Agnes' version, as you can see, did make Digilistan, which I don't think was the official singles chart at that time, but it was one of two Smb songs that did not make Sverigetopplistan, so we can say that it was one of the least popular from that program,
BUT NOT HERE
.
I would talk about songwriter Magnus Frykberg, but I have run out of embeds, or at least I will have after posting Agnes' version of Flowers. Think of all the Army of Lovers and Lisa Nilsson songs you could have had.
So who wants to go to the supermarket (I haven't seen any flowers for sale at petrol stations here)?
@londonrain
is almost whelmed:
"This was fine when Titiyo did it and it's fine here." - 7.0
@DJHazey
is similarly unenthusiastic:
"Slightly not quite good enough to make scream about it not being on Spotify. Pleasant, but I'll probably forget it about it." - 8.0
@iheartpoptarts
appears to be taking on
@Hudweiser
's role of immediately forgetting everything in a song contest after voting:
"Very different—I had to Google what it was even though we literally just had it in a song contest. Then I had to go to the TV show's Wikipedia page because Google gave me Bruno Mars." - 7.0
@berserkboi
asks a question that I do not know the answer to:
'Is this the song MKS are reportedly doing?' - 9.7
@abael
's comment seems a little more positive than the score:
"Well this is definitely more direct than her usual Extras stuff, it works better than most of the others. That, or maybe it's the English lyrics are understandable so I simply connect to it easily." - 7.0
Men svenska är inte så svart? Nej? Någon?
@danmharrow
has the most positive things to say though:
'Love Titiyo! And the backing vocals here are great. Agnes has always felt a bit 90s, so the perfect choice for her.' - 9.0
Up next? Well, it's been a while since we lost an eleven, hasn't it?
​